Woodland Magic
Regular price
Sale price
$24.50
Unit price
per
Sale
Sold out
9 oz soy candle
Persephone's Return celebrates the arrival of Spring. As the story goes, Persephone was picking wildflowers in a sunny field when Hades appeared to take her to the underworld. This candle is inspired by those flowers (among them violet, roses, crocuses, and lilies) trailing along behind her or left in a pile after Persephone's disappearance, as well as the flowers which now blossom at her return. Fragranced with violet, gardenia, tuberoses, jasmine, honeysuckle, and a subtle bite of red currant, Persephone's Return is a floral scent, both intense and faint in different moments, like the smell of flowers on a warm breeze.

The candle tops are ornamented with amber (that eternal reminder of captured sunlight) and with amethyst, and decorated with additional flowers, including a few of those which Persephone was picking (day lilies and roses), lavender and jasmine. While they have a variety of associations, together these plants tell the story of Persephone, of her journey to the underworld, and of her return. Roses, violet, amber, jasmine, and honeysuckle reflect the love Demeter had for her daughter, the love Persephone had for the world of light, and the love she created in the underworld with Hades. Chrysanthemum's association with protection and farewells reminds us that while changes in seasons and settings can be painful, we have tools to protect ourselves. Farewells can also be liberating. Lavender and globe amaranth link together love with healing, asking us to carve out a space for ourselves to heal from our past hardships and heartbreaks, and to remember the sunlight has returned again, and along with it another season of warmth and growth.


Magical phrase on this candle reads: "The earth erupts with sweetness and growth as Persephone returns to the world of light." Background image: pomegranates by Maria Sibylla Merian, 17th-century naturalist and artist.
This 9 oz candle is hand-poured in small batches, with a burning time of 40+ hours.
Historical & magical associations of ingredients:

Amber: Healing, beauty, love, warmth, sunlight

Amethyst: Intuition, calm, courage, clarity

Chrysanthemum: Protection, farewells

Honeysuckle: Attraction, love, friendship, generosity

Jasmine: Love, happiness, moon magics

Rose: Love, friendship, luck, protection, happiness

Lavender: Love, healing, calm

Globe Amaranth: Healing (especially from heartbreak), immortality

Lily: Protection, water magic, moon magic, love

Violet: Death, rebirth, love
About this candle:
Made with 100% soy wax from the US
Made with lead-free cotton wicks
Made with non-toxic fragrances
Contained in a reusable glass container
Made in a workshop now powered by solar energy!
View full details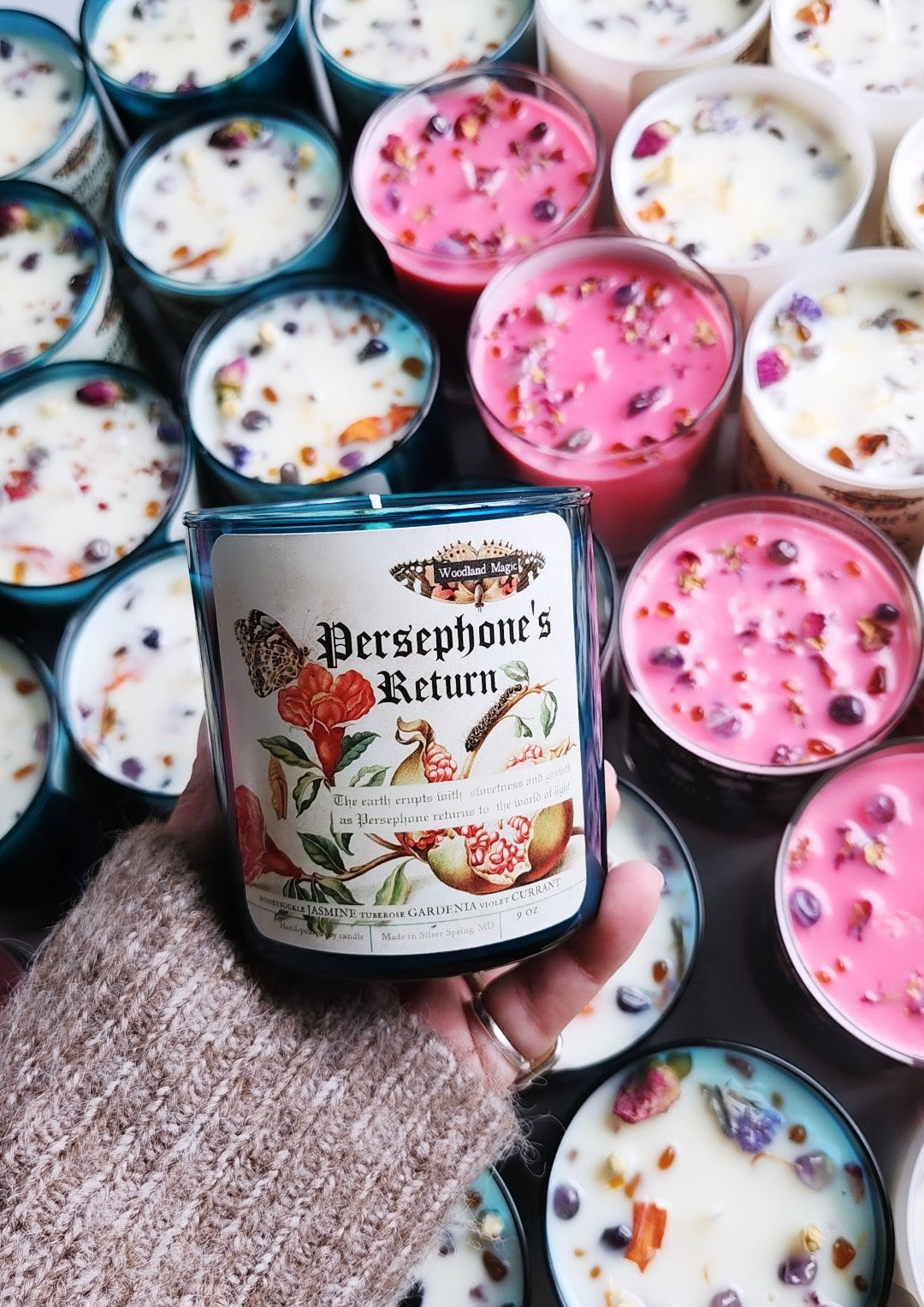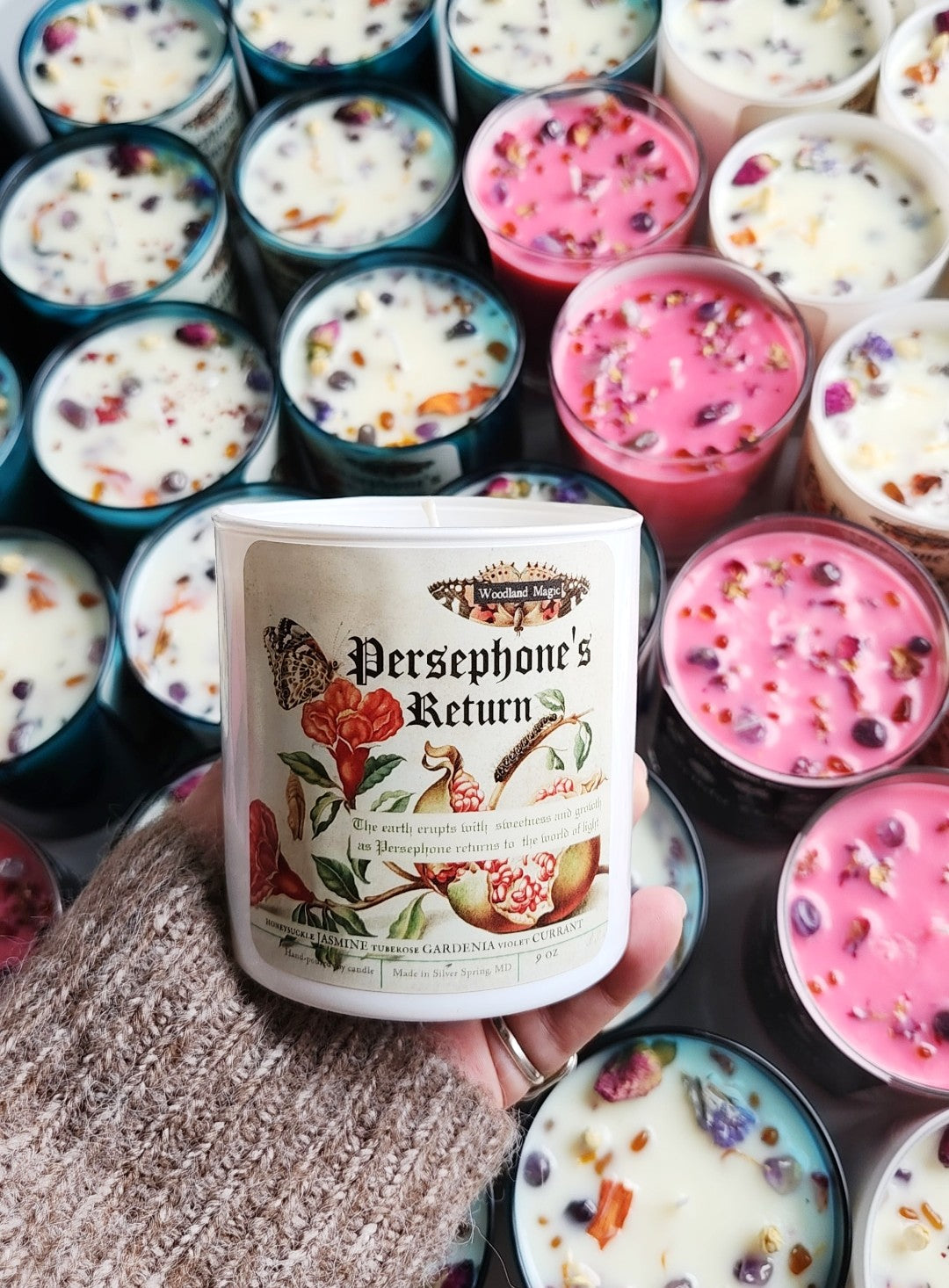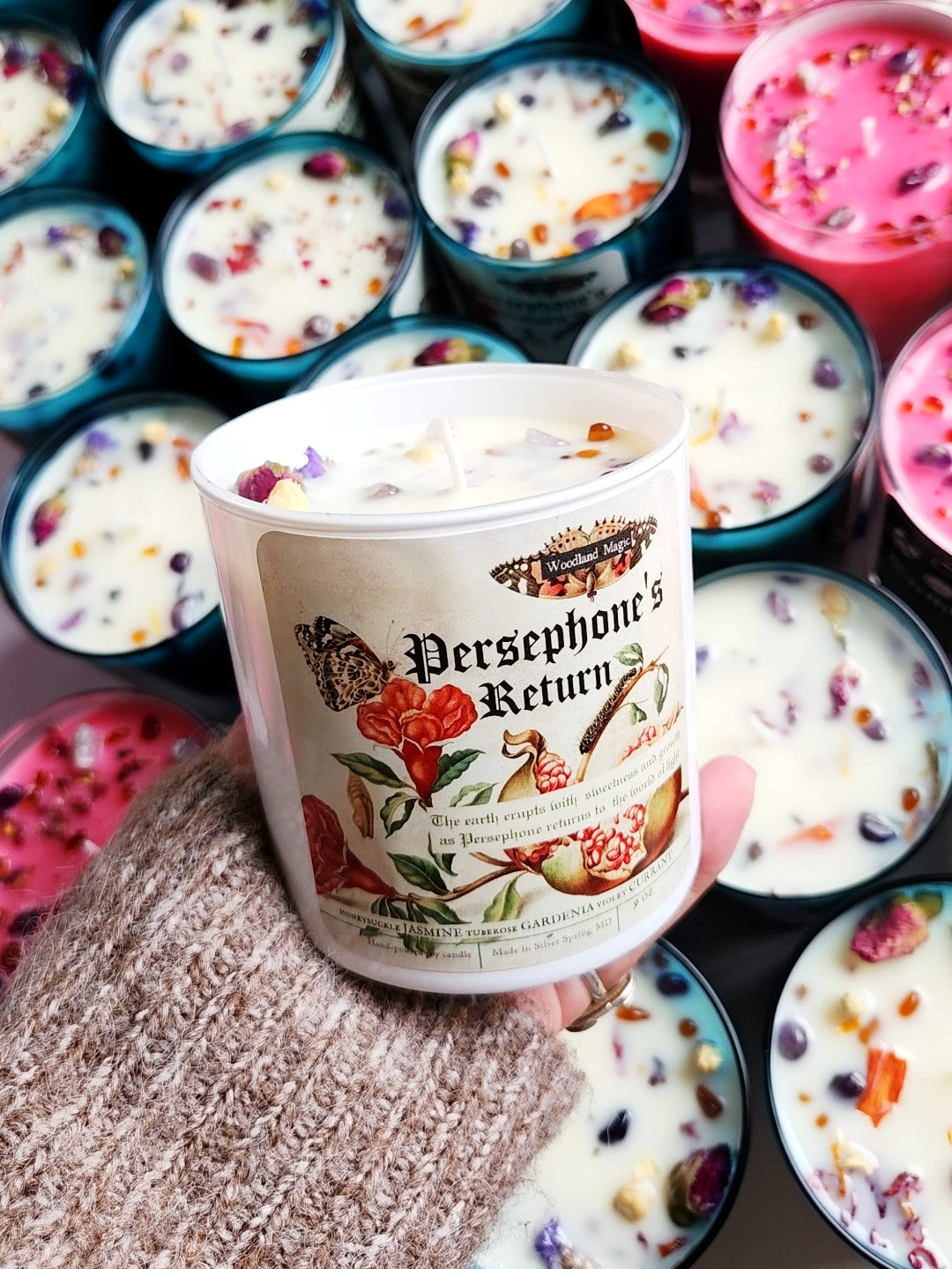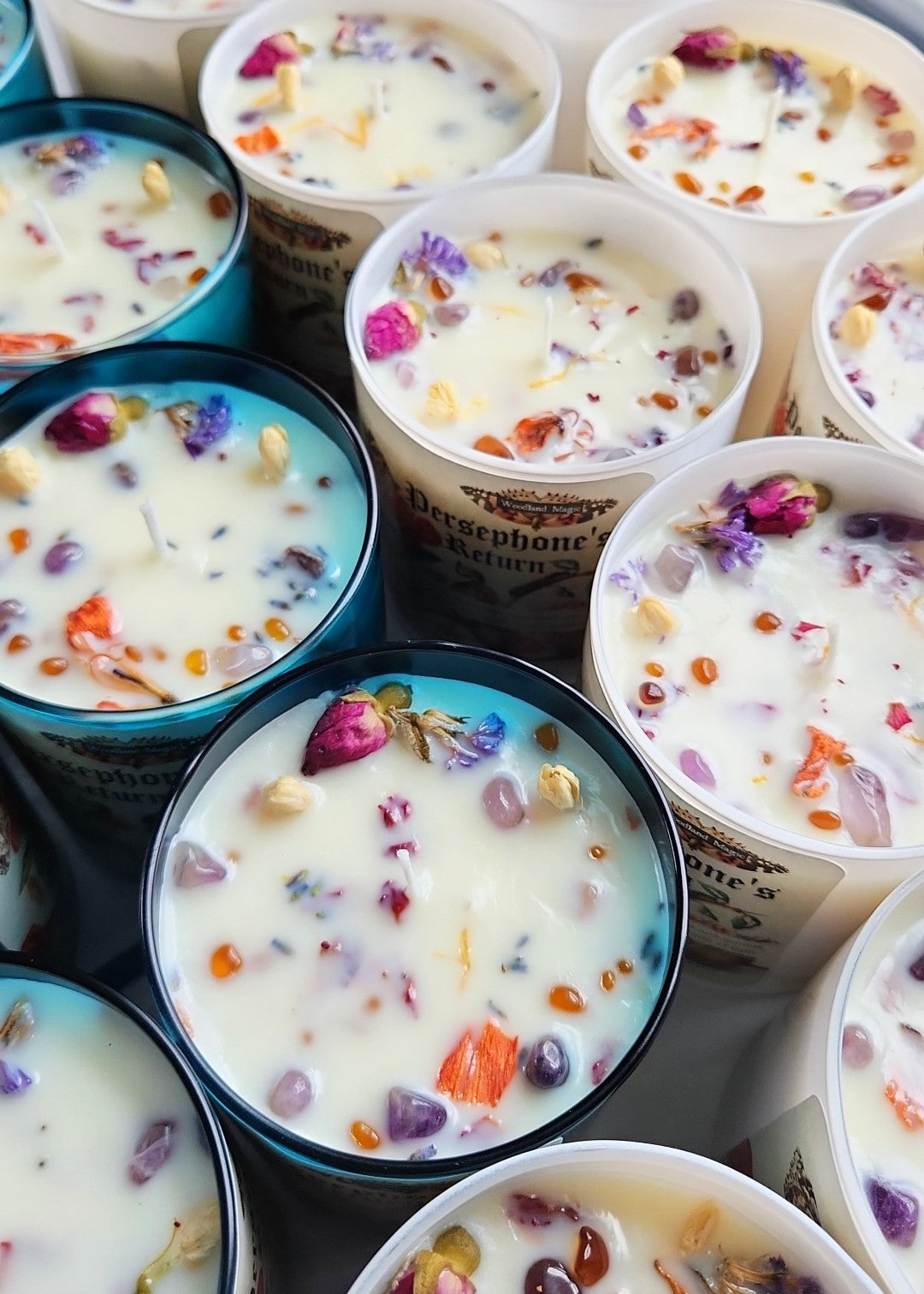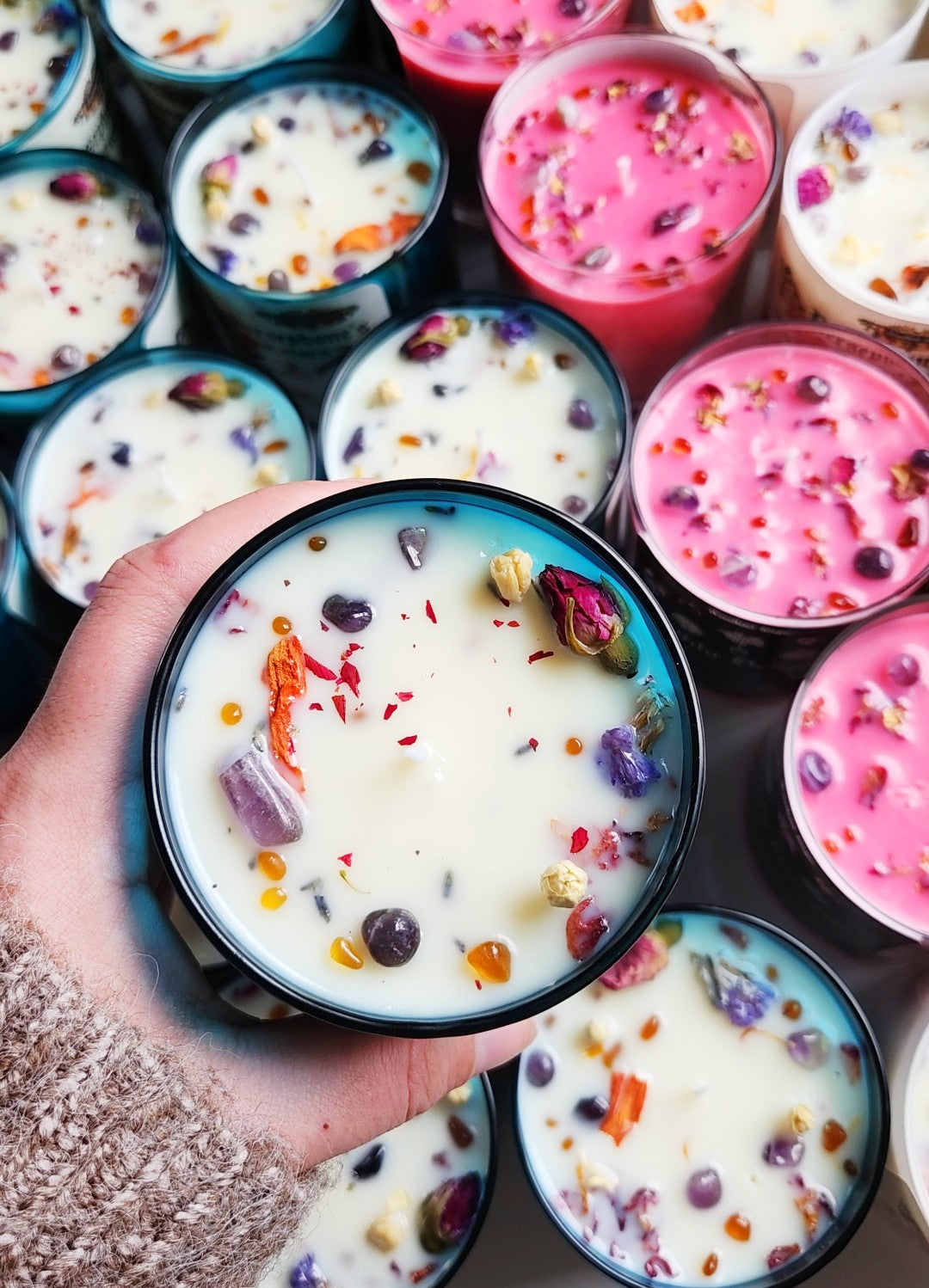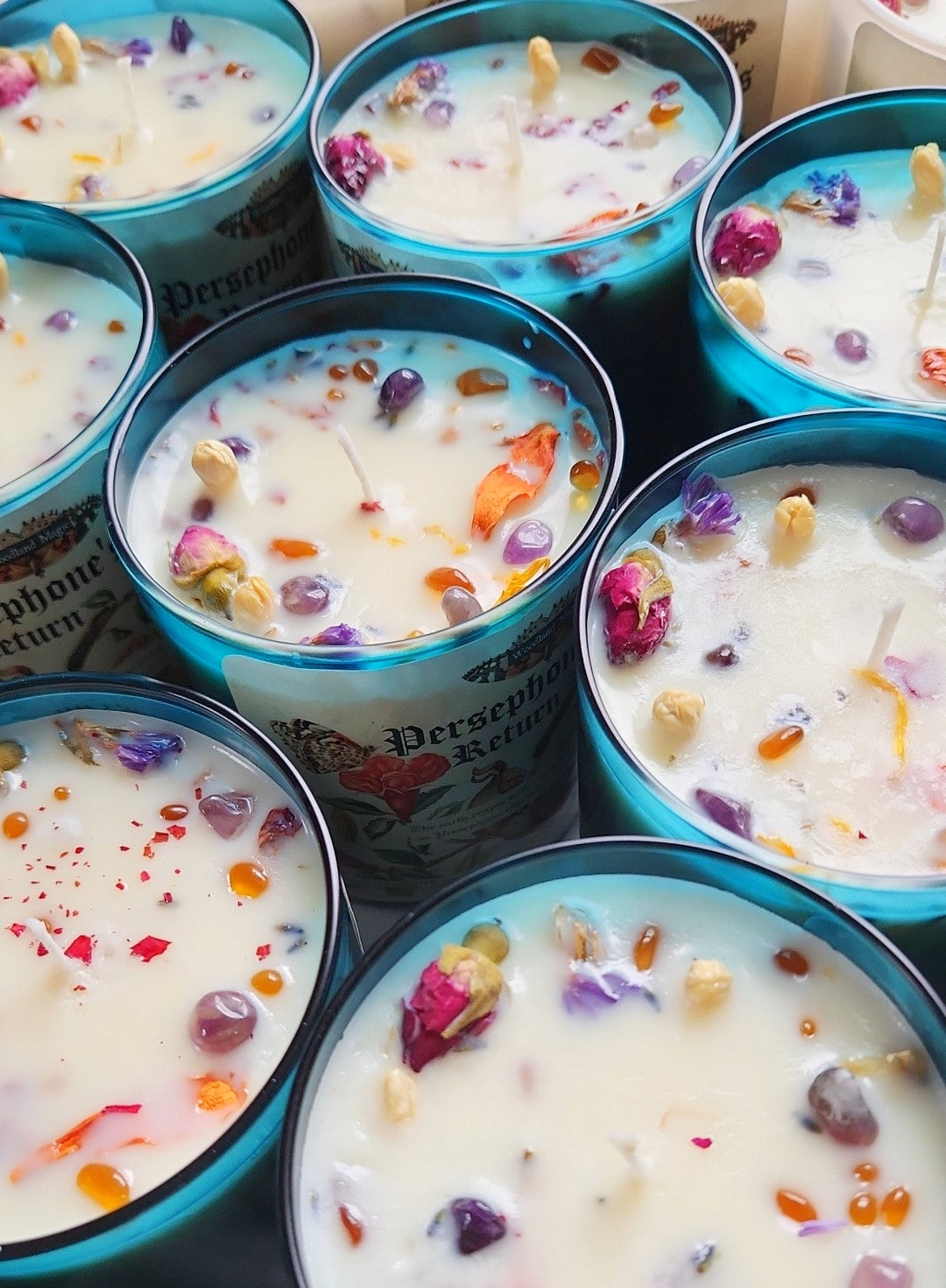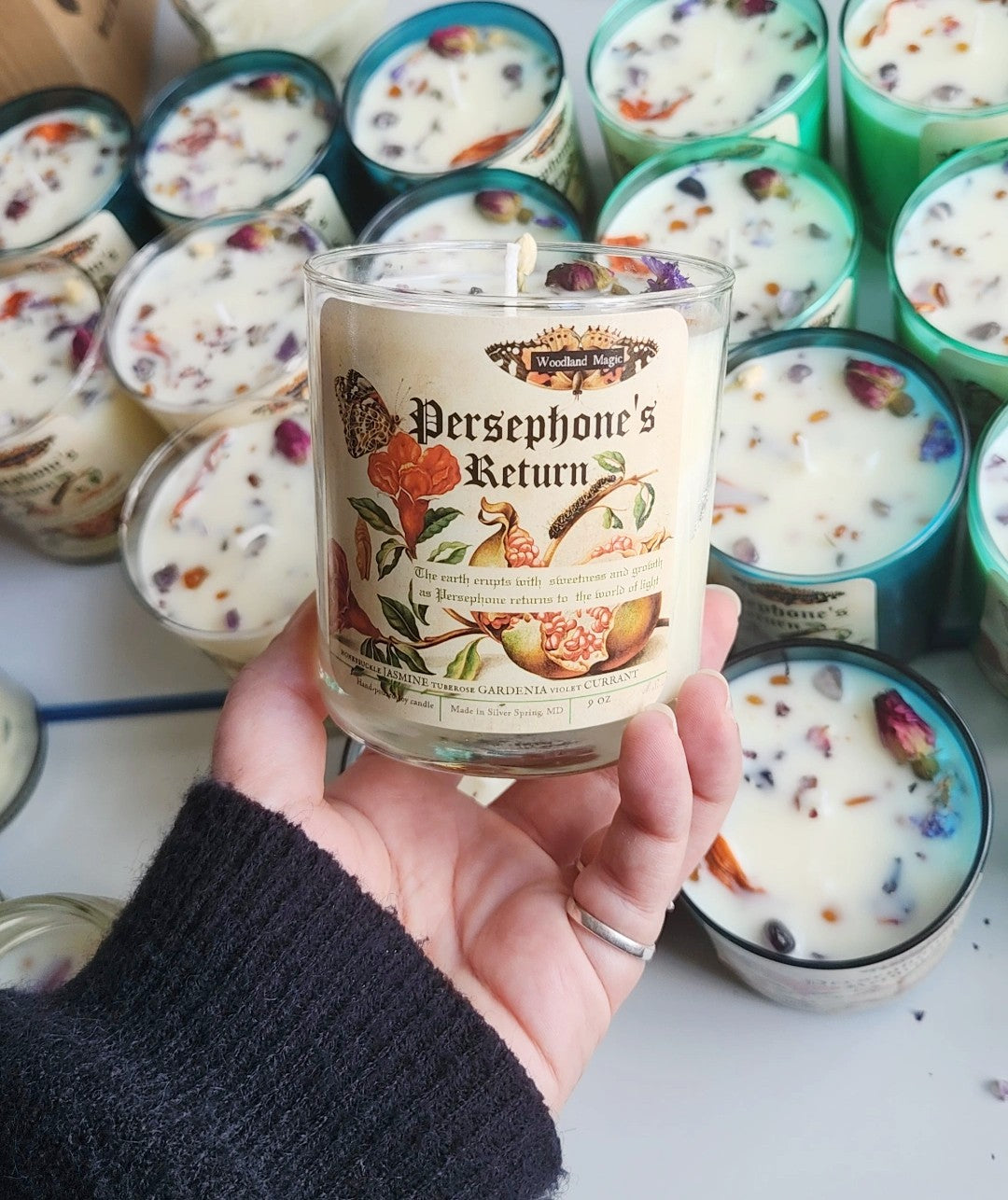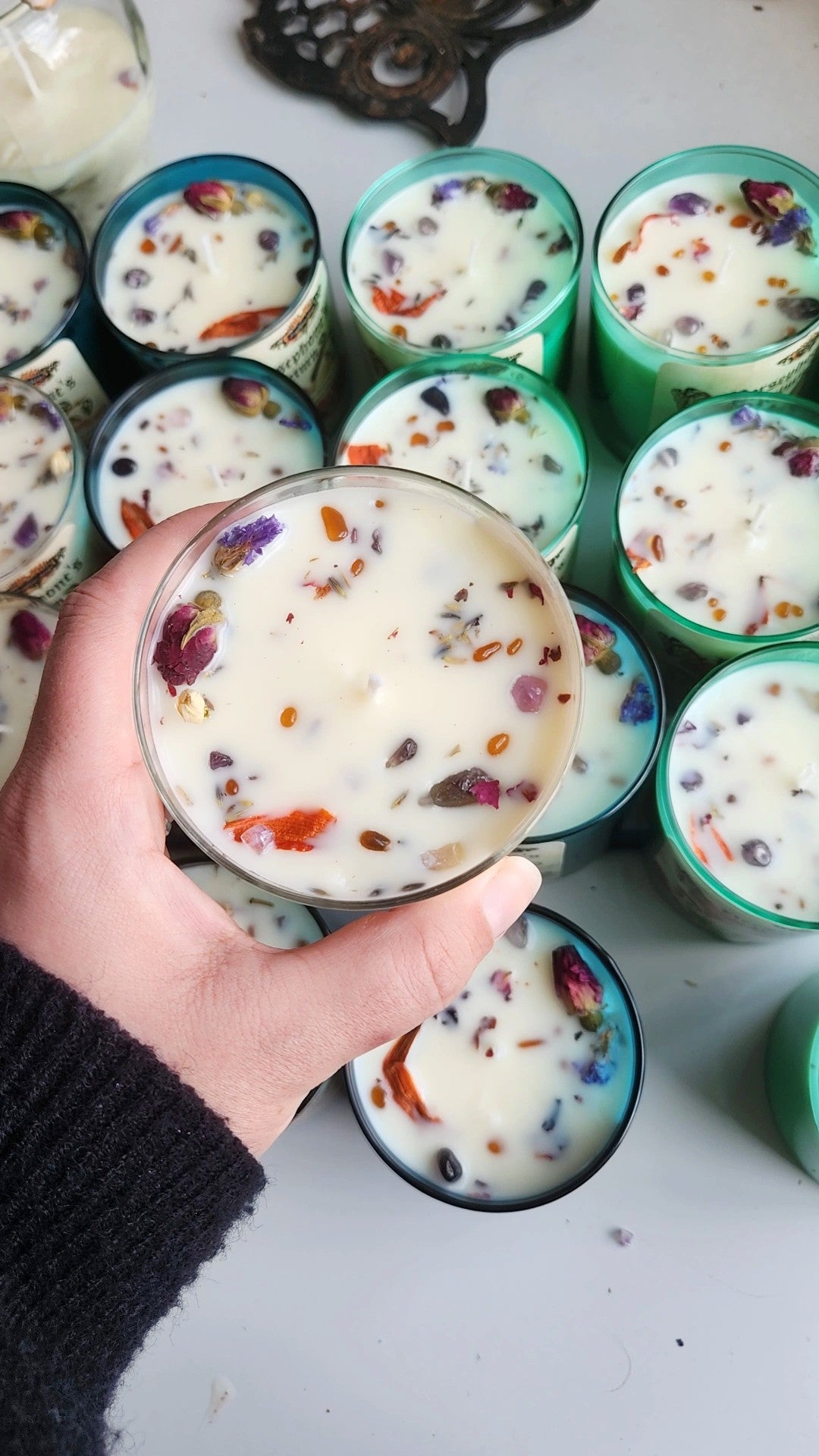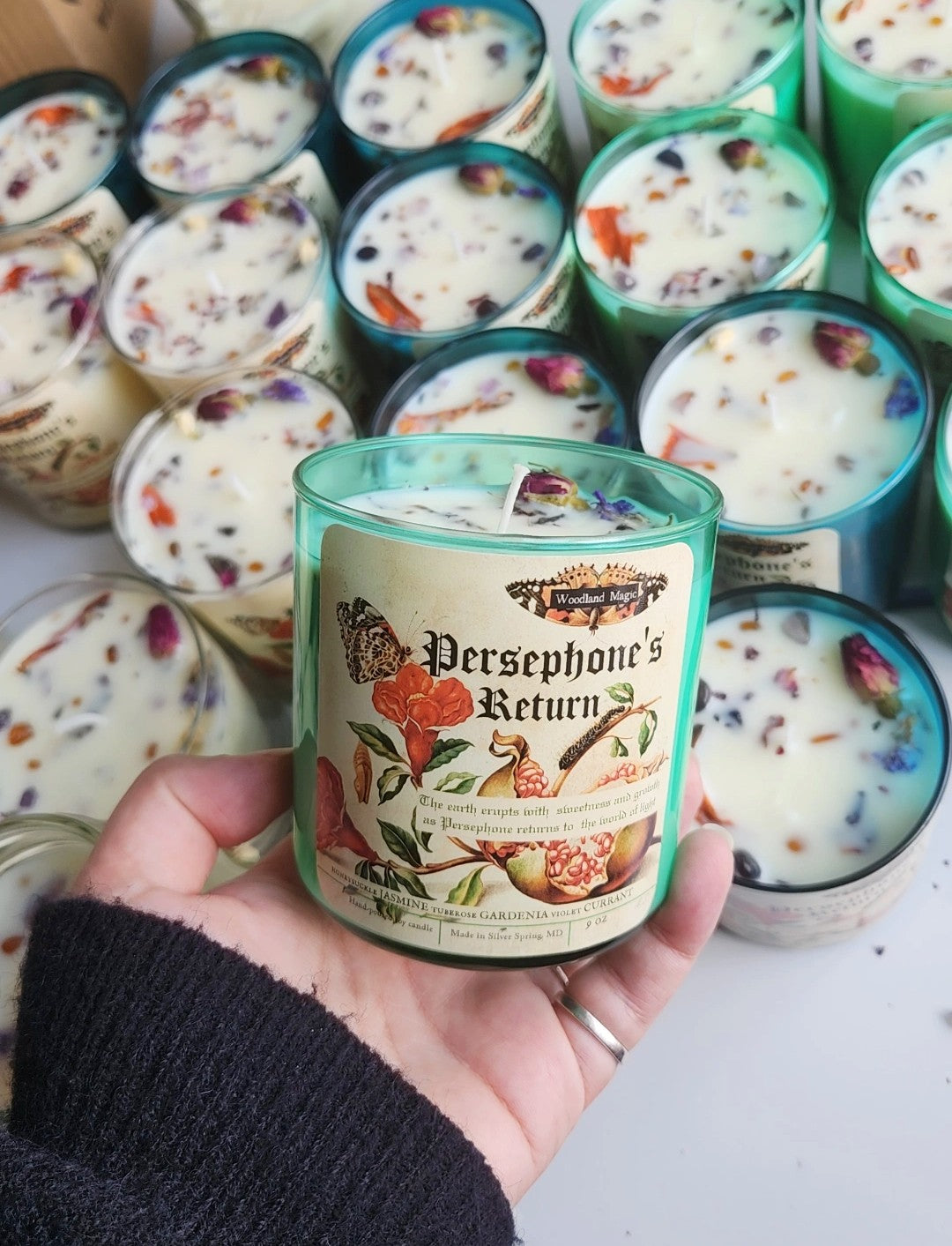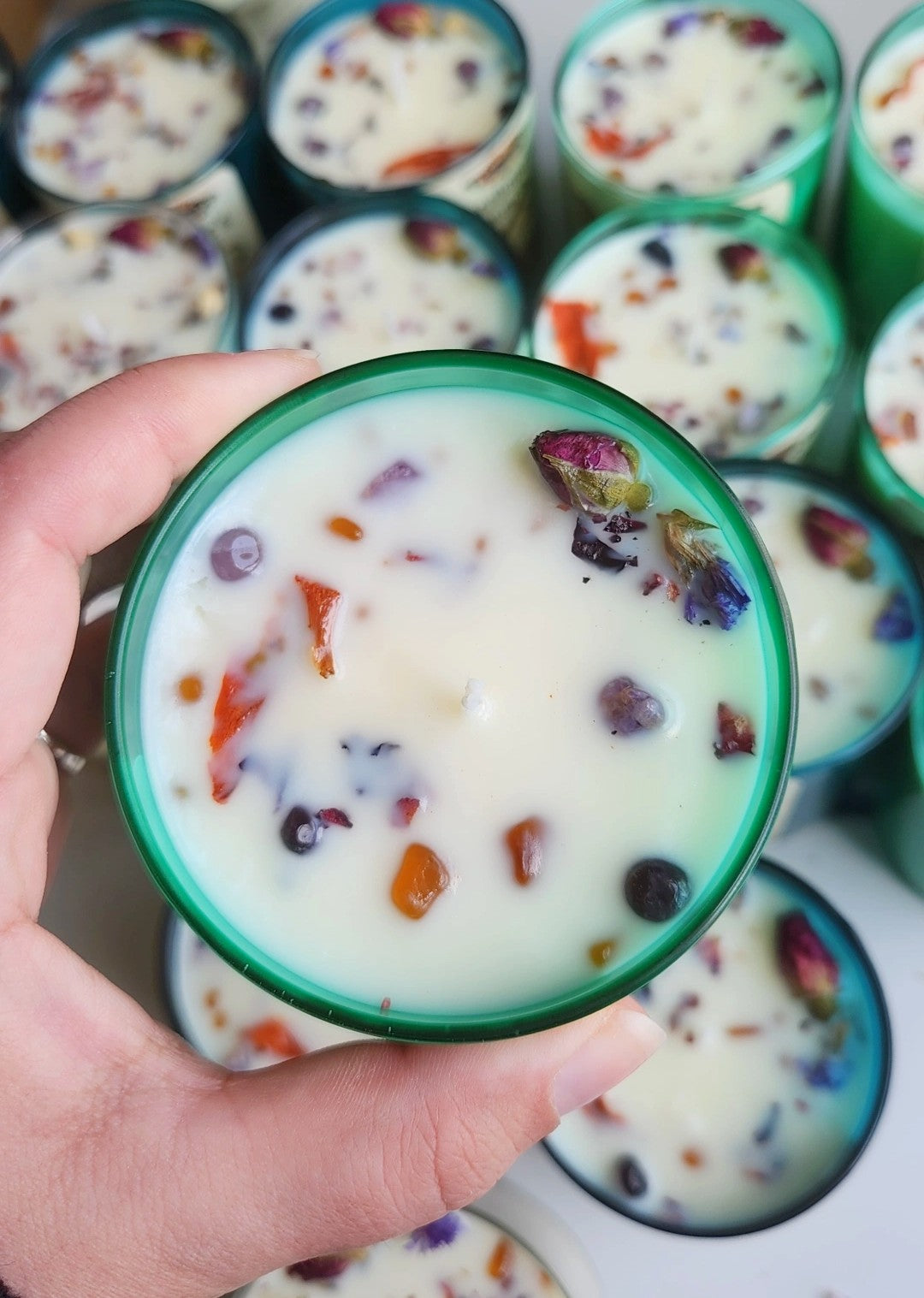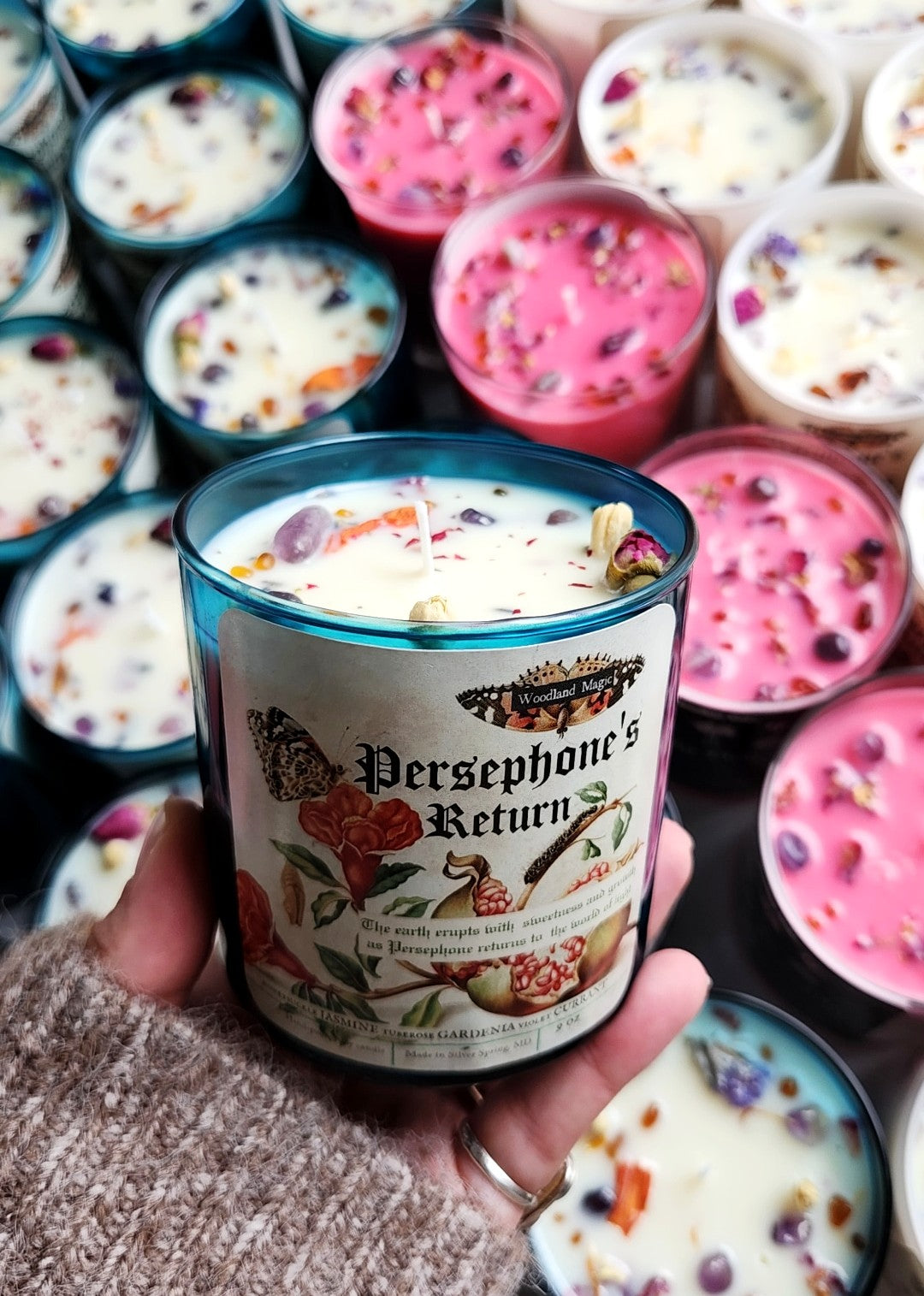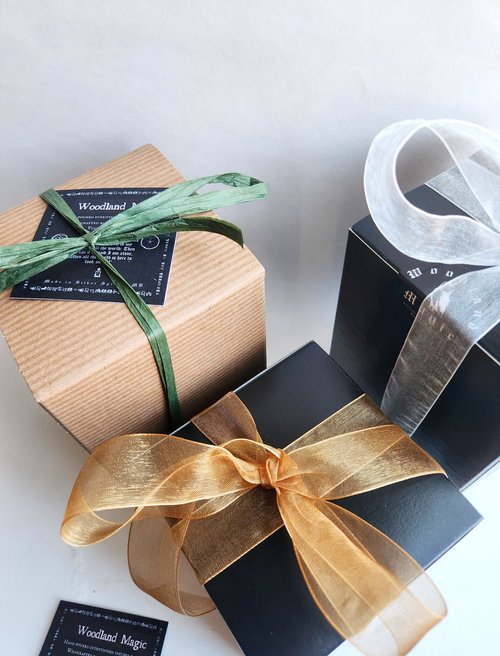 Lovely Like Spring
I'm not usually a fan of floral candles but this one is wonderful. It has a strong smell but isn't overwhelming. The floral smell is like walking through a garden and the difference scents mix beautifully. ❤️
Super FAST shipping, EXCELLENT packing, GREAT communication, & DIVINE scents! I restock on a regular basis! LOVE Woodland Magic! 💚
These candles look and smell beyond incredible! The artist also included one of their very cute mini owl candles upon request and it is perfection!
It's so pretty and smells fantastic! Will definitely order more in the future