Woodland Magic
Regular price
Sale price
$24.50
Unit price
per
Sale
Sold out
9 oz soy candle
"Wouldst thou uncover strixine secrets?"
The woods change at night. As the sun sets, darkness reaches up from the sky and wraps itself around roots, leaves, tails, and paws, curling around the base of trees and sweeping around disturbed woodland edges.
Intention and sigil-infused and poured in small batches, Nightwood candles evoke the woodland at after dark. Through the familiar aromas of spruce and birch rise a series of complex scents, meant to summon that mysterious quality of a dark forest, including chrysanthemum and bergamot. They are ornamented with a number of protective stones and plants, including obsidian and juniper berries; amber reflects the light of the flame and reminds us that the day will come again. Burn this candle when the sun sets, to enjoy the fragrances of the night, to create a forest ritual, or to inspire meditation on the woodland creatures who make the nighttime their home.

This 9 oz candle is hand-poured in small batches, with a burning time of 40+ hours. This particular batch is a night black.
Historical & magical associations of ingredients:

Obsidian: Protection, empowerment, truth

Amber: Healing, beauty, love, warmth, sunlight

Cedar: Endurance, resilience, eternal life

Juniper: Purification, protection

Birch: Protection, creativity, regeneration, illumination

Chrysanthemum: Protection, farewells

Bergamot: Prosperity, joy, clarity
About this candle:
Made with 100% soy wax from the US
Made with lead-free cotton wicks
Made with non-toxic fragrances
Contained in a reusable glass container
Made in a workshop now powered by solar energy!
View full details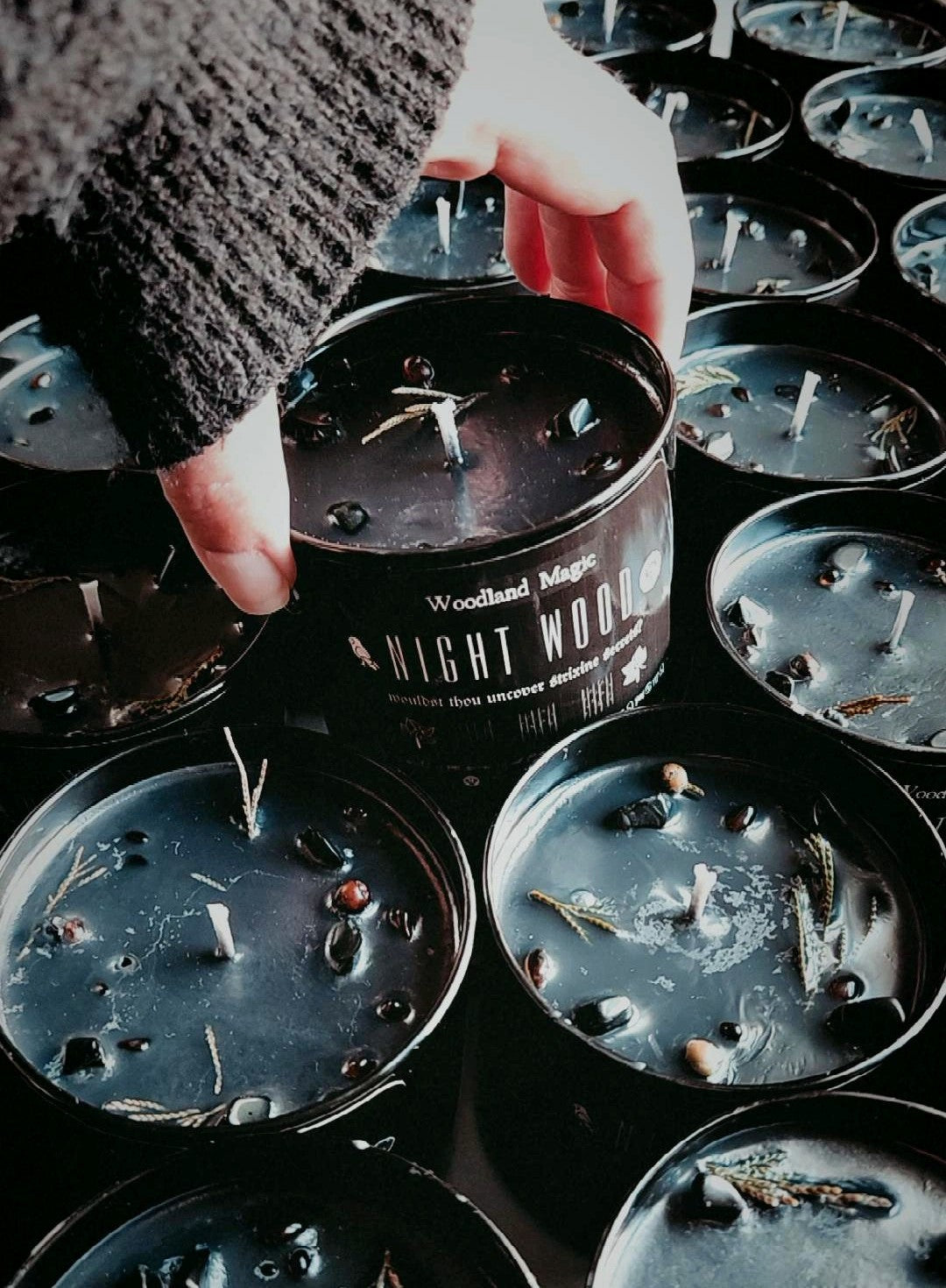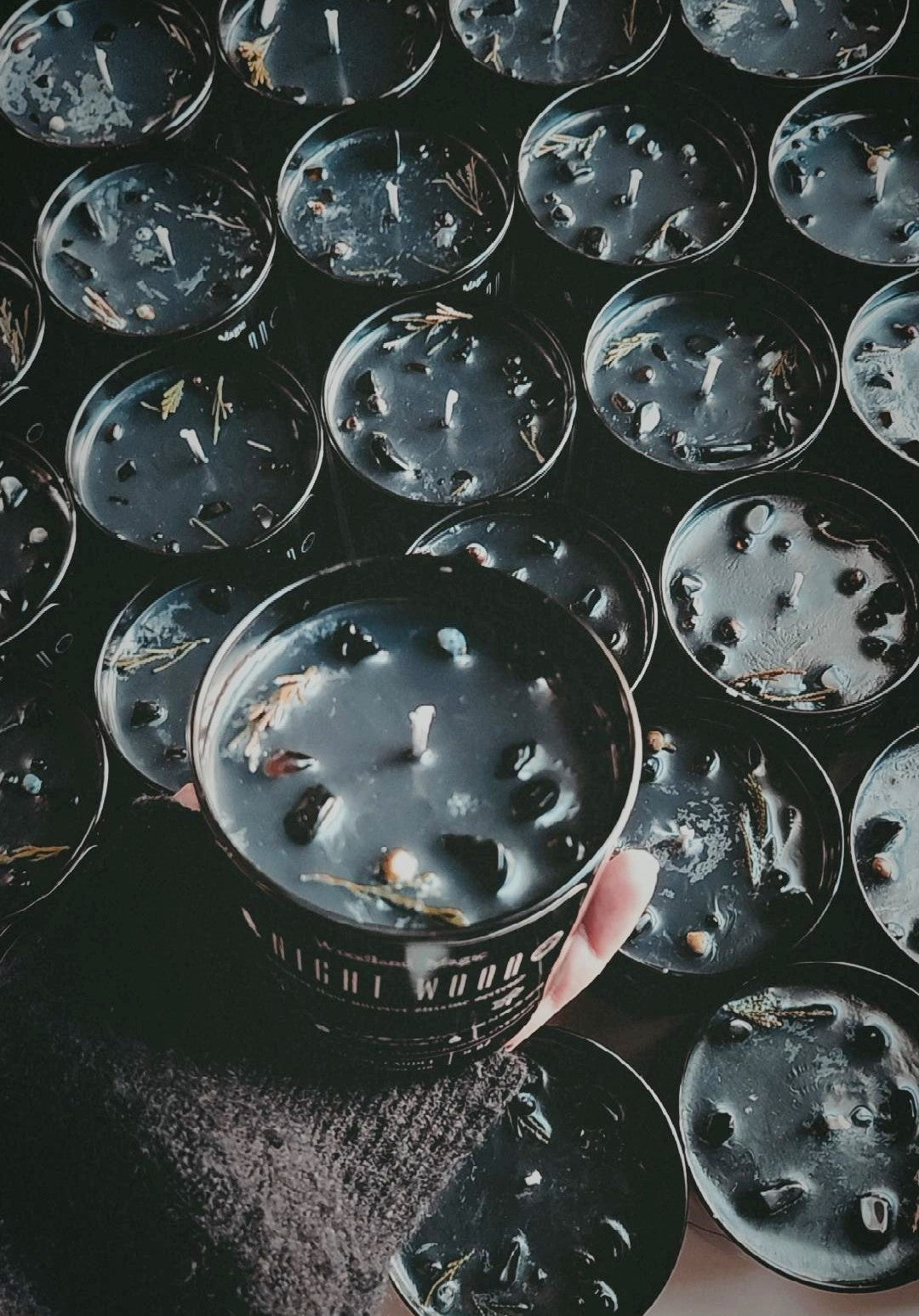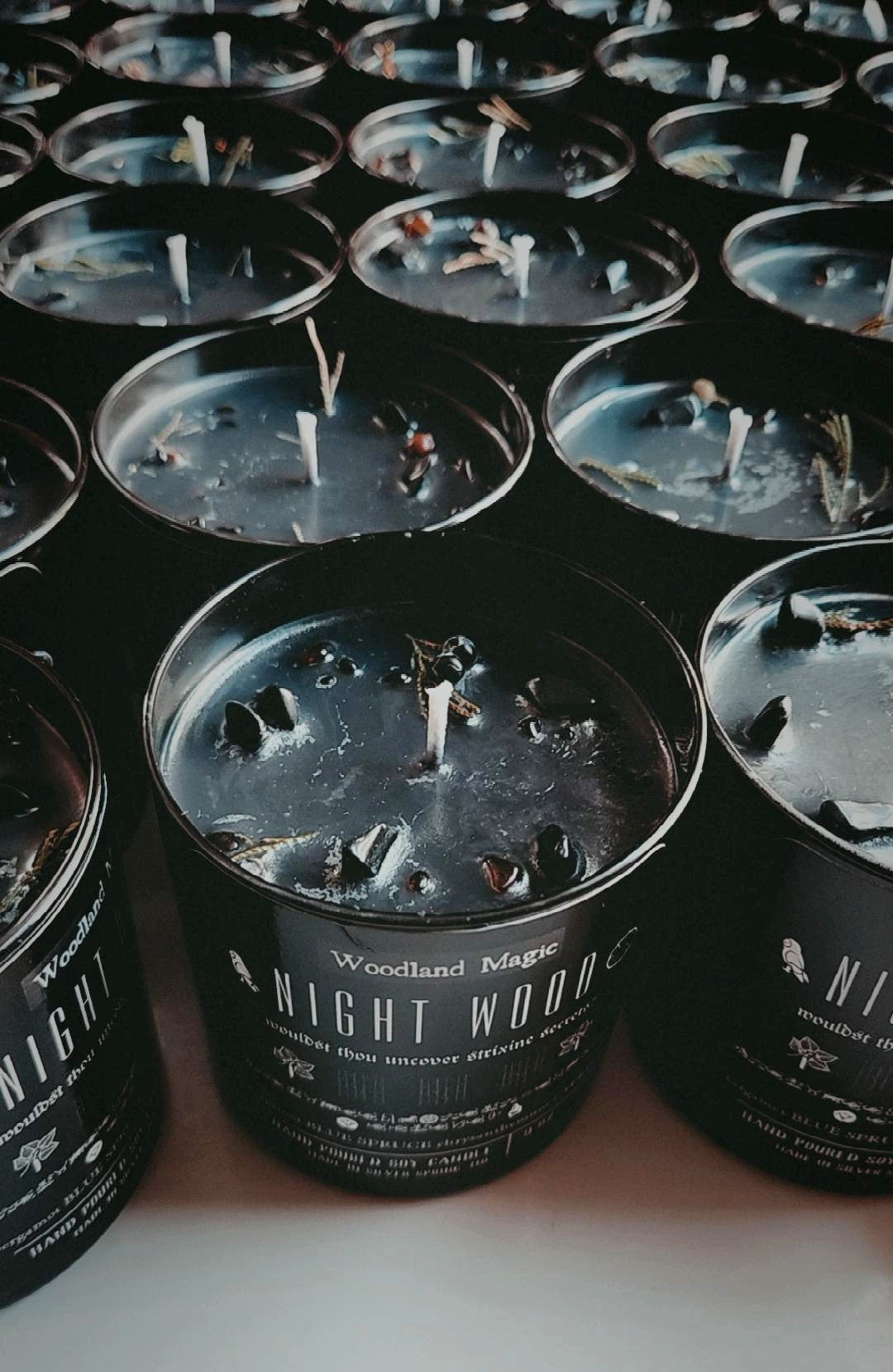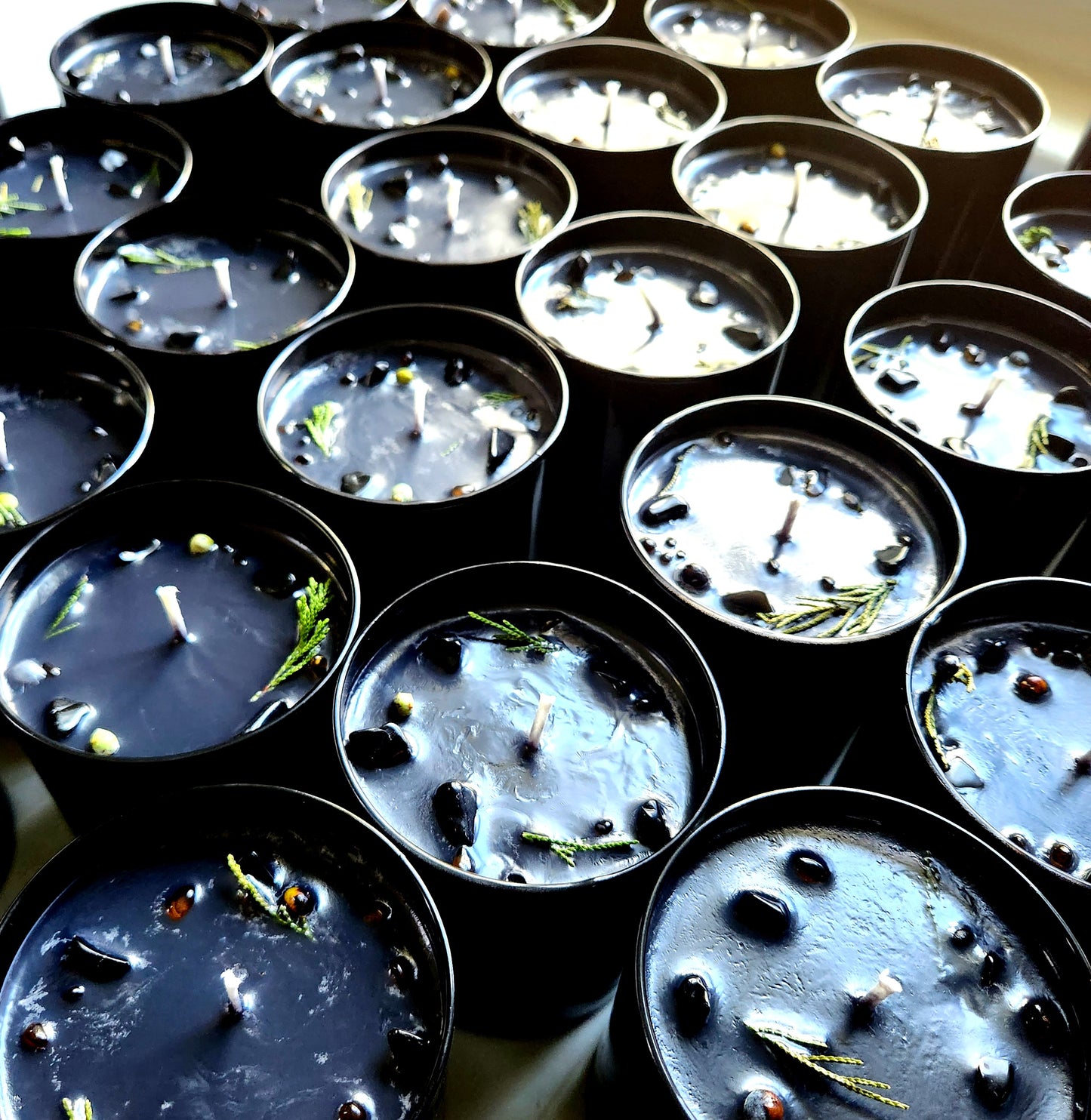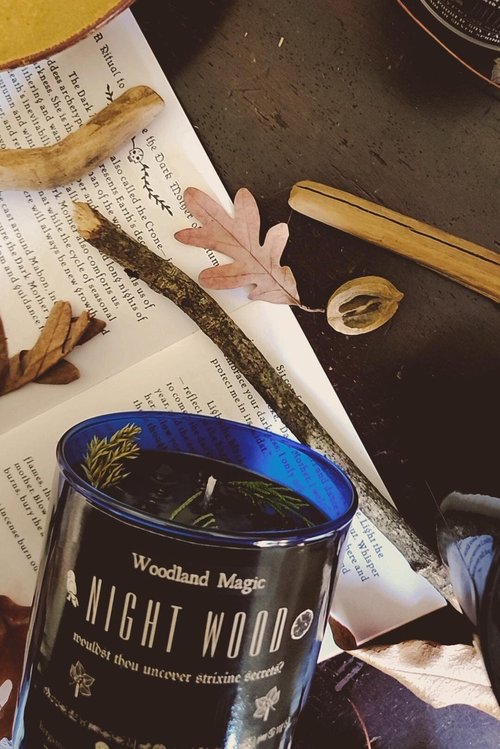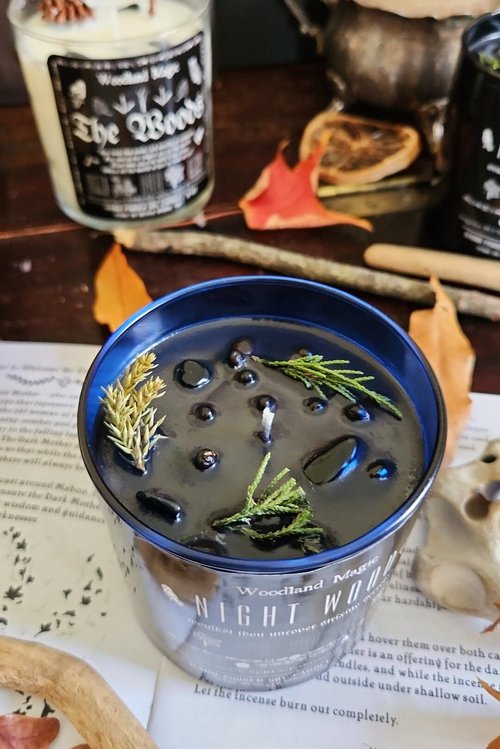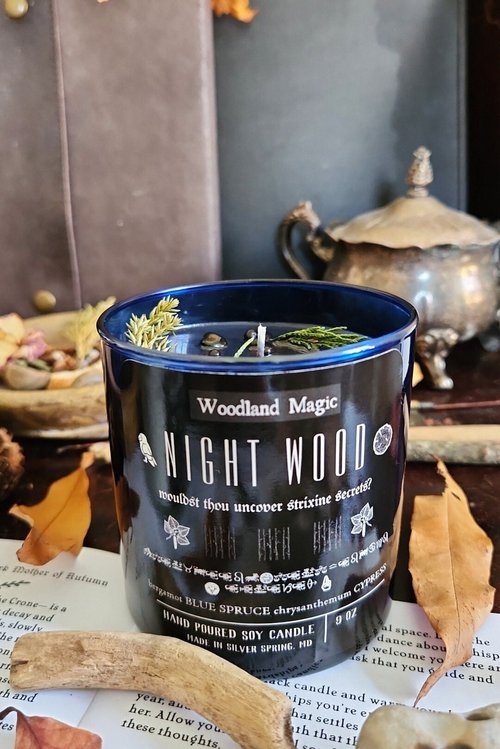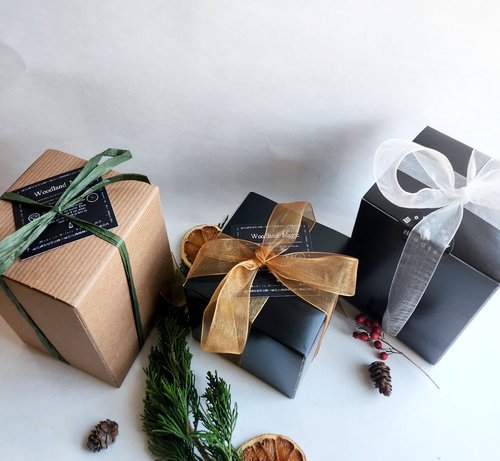 meticulously packaged and thoughtful choice of materials used, thoughtful notes and candle care instructions included, great branding, and the scent is strong and unique. You won't be disappointed!
Premium scent. Scent is potent and goes along way, but smells awesome.
After receiving my candles faster than I expected, the Night Woods was the first one I lit. The scent is wonderful, the candle burns well and is beautiful to look at. Would highly recommend.
I'm IN LOVE with this candle. Perfect for that woodsy, holiday scent; not to mention how gorgeous it is!!
Smells amazing, will have to try it out tonight. I can already tell it smells woodsy and the little bits on top of the candle are a nice touch. The note and little extras were nice to get, thank you ☺️