Woodland Magic
Regular price
Sale price
$24.50
Unit price
per
Sale
Sold out
9 oz soy candle
Bursting forth with the fragrances of full summer, this candle unapologetically revels in the delights of the earth and sun. Its pink coloring reflects the ambrosial, fleshy flowers of summer and the special pleasure in seasons of bounty, of reaching into a bowl of overflowing fruit. The sweetness of honeysuckle is met with the complexity of pomegranate and the mystery of jasmine, uplifted by the bright citrus notes of lemon peel and cut through with the bite of blood orange. This candle is ornamented with rose petals, amethyst, and amber, each evoking the fruits and flowers of summer, of purifying abundance, and of sunlight and warmth.

The pink coloring and floral, fruity fragrances mean that this candle would make an excellent gift to bring sunshine and warmth into someone's space. The smell is intoxicating: intensely fruity and floral without being overwhelming.

There are two sigil phrases tied to this candle, and both are written on the label. The first you can find just under the candle name, "Earthly Delights." It reads: "Earth and sun meet and bring forth delightful abundance." The second is written below the fragrance list, in a symbolic font. It reads: "May our delight be bound to gratitude for the gifts of earth and sun."

This 9 oz candle is hand-poured in small batches, with a burning time of 40+ hours.
Historical & magical properties of the ingredients:

Orange: Joy, prosperity, love

Pomegranate: Abundance, sex, life, fertility

Honeysuckle: Attraction, love, friendship, generosity

Jasmine: Love, happiness, moon magics

Amethyst: Intuition, calm, courage, clarity

Amber: Beauty, love, warmth, sunlight, healing

Rose: Love, friendship, luck, protection, happiness
About this candle:
Made with 100% soy wax from the US
Made with lead-free cotton wicks
Made with non-toxic fragrances
Contained in a reusable glass container
Made in a workshop now powered by solar energy!
View full details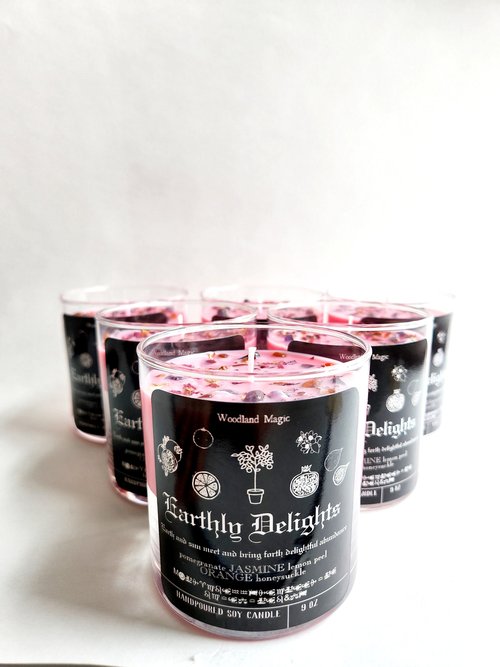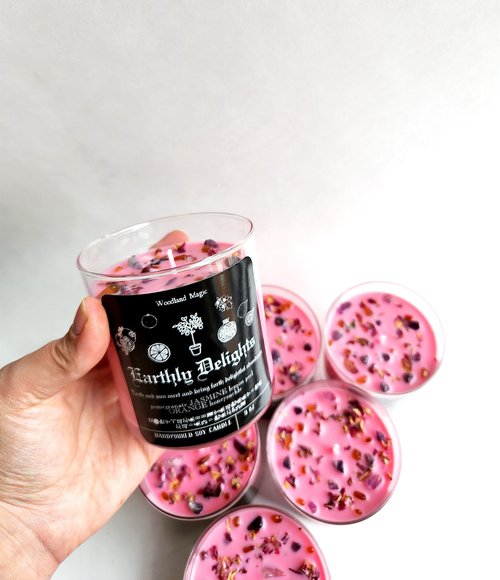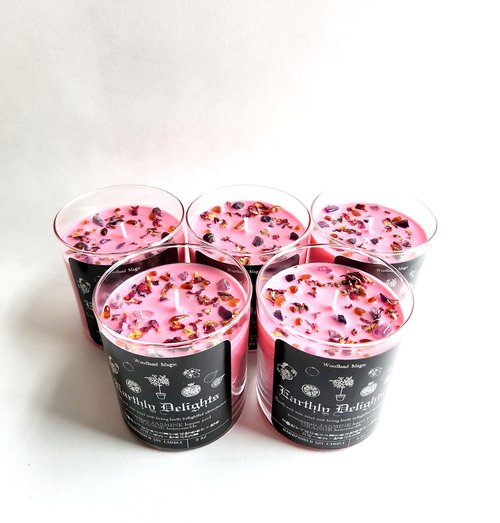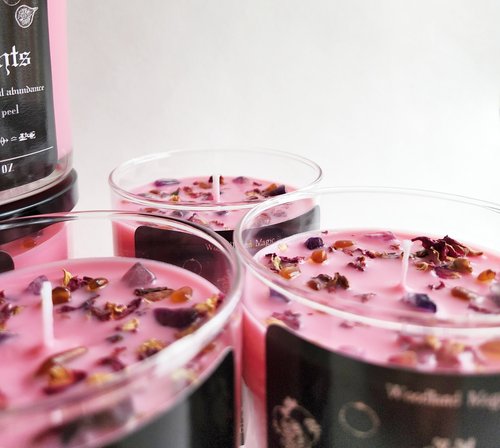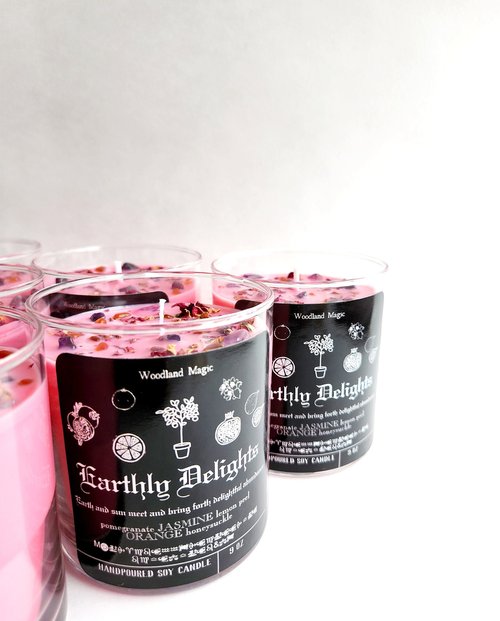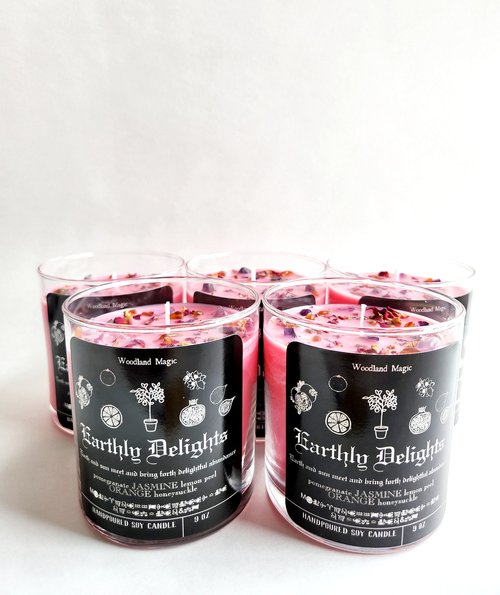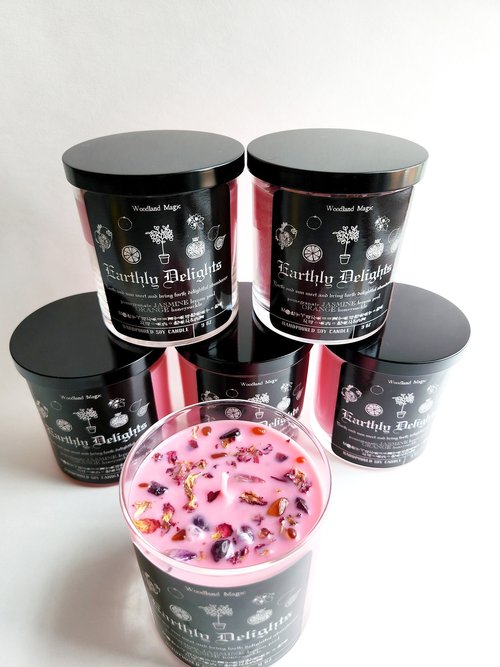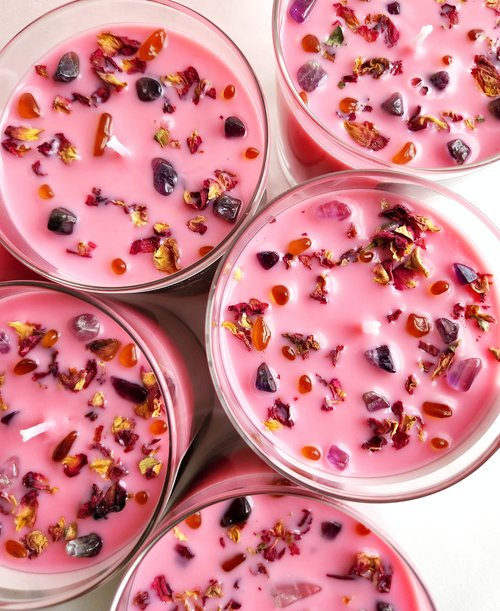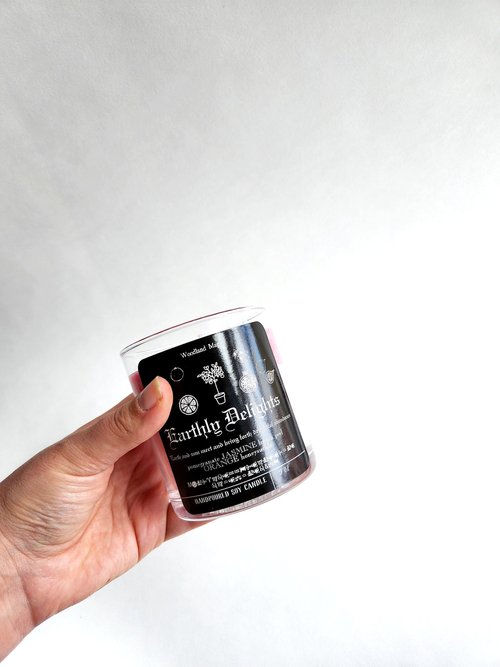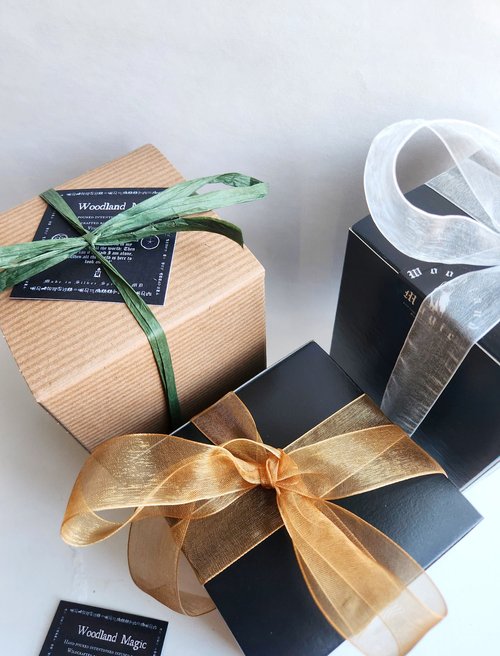 My 3rd purchase from this store & I love these candles! Smells absolutely beautiful & couldn't be more pleased.
This one is so beautiful and smells so good and if it weren't totally weird I would probably try to eat it.
The earthly delight candles are so adorable ;) And all candles smell amazing and are beautiful. Well packed to ensure a safe delivery and presented thoughtfully. Thank you!!